Dubbing and Voice overs.
Dubbing 
– We offer quality dubbing at very competitive prices.
– We can handle your whole project, dubbing, translations and mix.
– No project is to big, be it just a simple narrator, or feature movies.
– Our up and download servers are fast and handles everything effortless.
– We use FTP, Aspera or whatever you require.
– See below for a showreel.
– We can provide full dub in both Thai and Myanmar. Please contact for a sample in Myanmar / Burmese.
VO's
Whether you are looking for Thai, Vietnamese, Malay, Cambodian, Indonesian, Lao, Burmese, Japanese, or Chinese – we can handle everything. And we can handle both the translation as well as the voice recording and final mix.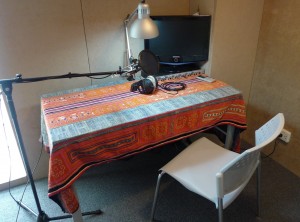 "Paradise PI, have provided first class translations and voiceover from English into Thai, Malay and Indonesian. They are on time and within budget and I highly recommend them" – Andrew Macrae (Senior Partner, AMRIOBBB).
Paradise Production can record voices for dubbing,
E-learning, company presentations, videos. And the studio is fully capable of recording to picture, and if you want to listen in, we can offer Skype connection.
See below for samples.
Bangkok, Thailand.
Dubbing Showreel 2014.
——————————————————————————
Available Voice Talents – Updated July 19, 2016
Click on a sample to listen
——————————————————————————
Thai Native
Tantorn-Thai-Male, easy accessible.
Wina-Thai-Female
Pang-Thai-Female
Oh-Thai-Male
Nok-Thai-Female
Kom-Thai-Male
Flint-Thai-Male, very good commercial voice, tends o be more expensive.
Art-Thai-Female
Lin -Thai-Female
——————————————————————————
Myanmar Native

JC-Myanmar-Male
Susan-Myanmar-Female
Tin-Tin-Myanmar-Female
Daily-Kyu-Myanmar-Female
——————————————————————————
Malaysia Native
Ewan – Malay – Male
Rodney-Malay-Male
Amy-1-Female-Malay
Amy-2-Female-Malay
Deanna-1-Female-Malay
Deanna-2-Female-Malay
——————————————————————————
Bahasa-Indonesia Native

ari-Bahasa-Female
——————————————————————————
Japanese Native

Takuya-Japanese – Male
Hiroyuki-Japanese-Male
Tae-Japanese-Female
Chiharu-Japanese-Female
——————————————————————————
Vietnamese Native

Candy-Vietnamese-Female
Dzung-Vietnamese-Male
Hina-Vietnamese-Female
Thong-Vietnamese-Male
——————————————————————————
English Native

Jeremy-Linn-English – American
Keith-English-Male – British
——————————————————————————

Inessa-Russian-Female
——————————————————————————