Voices
Updated, April 2021.
We have recently sourced more than 40 Thai voice talents.
We have assembled most in a Google doc that you can see here.
So if you have a multiple talent project, we are the ones who can deliver.
We have voice talents speaking, Thai, Vietnamese, Malay, Cambodian, Indonesian, Lao, Burmese, Japanese, or Chinese,please  contact us for available talents.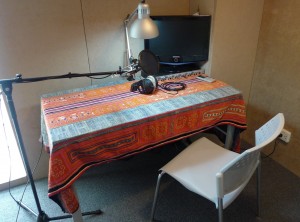 "Paradise PI, have provided first            class translations and voiceover from English into Thai, Malay and Indonesian. They are on time and within budget and I highly recommend them" – Andrew Macrae (Senior Partner, AMRIOBBB).
Paradise Production can record voices for Advertising, Dubbing,
E-learning, Company presentations, Online videos etc.  And the studio is fully capable of recording to picture, and if you want to listen in, we can offer Skype connection connected directly to the talent.
See below for samples.
Bangkok, Thailand.
Dubbing Showreel 2019.
——————————————————————————
Available Voice Talents – Updated April 22, 2021
Click on a sample to listen
——————————————————————————
Thai Native
Tantorn-Thai-Male, easy accessible.
Wina-Thai-Female
Pang-Thai-Female
Flint-Thai-Male, very good commercial voice, tends o be more expensive.
Art-Thai-Female.
Yam-Female- Thai
Lin -Thai-Female
——————————————————————————
Myanmar Native

JC-Myanmar-Male
Susan-Myanmar-Female
Tin-Tin-Myanmar-Female
Daily-Kyu-Myanmar-Female
——————————————————————————
Karen Native – Rare language from rural Myanmar and Thailand.
Taw Oo – Karen – Female
——————————————————————————
Malaysia Native

Ewan – Malay – Male
Rodney-Malay-Male
Amy-1-Female-Malay
Amy-2-Female-Malay
Deanna-1-Female-Malay
Deanna-2-Female-Malay
——————————————————————————
Bahasa-Indonesia Native

ari-Bahasa-Female
 Kerry-Bahasa-Male
——————————————————————————
Japanese Native

Takuya-Japanese – Male, Currently unavailable
Hiroyuki-Japanese-Male
Tae-Japanese-Female –
Chiharu-Japanese-Female
Kei – Japanese – Male
——————————————————————————
Vietnamese Native

Candy-Vietnamese-Female
——————————————————————————
English Native

Jeremy-Linn-English – American
Keith-English-Male – British
——————————————————————————

Inessa-Russian-Female
——————————————————————————