About
State-of-the-art mix studio
In short time Paradise Production has built a reputation as a leader in voice recording and sound mixing in Thailand and SEA. We always use only the best technology and tools, thus we are regarded among peers to be a state-of-art mix studio – geared for almost everything:
"Nicolai Kehlet is truly one of the most talented people i've ever had beside me in the studio. When it comes to composing and producing great music for my clients, or just giving me the best sound in my radio commercials, Nicolai will always be my first choice" – Palle Bo, www.radioguru.dk/uk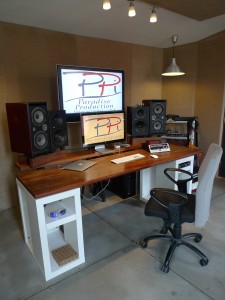 Being professional musician who master the guitar, Nicolai Kehlet is happy to accommodate anybody who wants or needs session work while in town
Nicolai Kehlet – owner/producer/composer/musician
The studio owner, Nicolai Kehlet, has more than 20 years of experience doing radio and tv commercials as producer and sound engineer. He has also composed jingles, soundtracks and songs for various projects – commercial and for broadcasting, as well as countless game localizations.
As master of mixing Nicolai is a true specialist, capable of producing dynamic subtle mixes for record labels, broadcasting, advertising and commercial voice recording that will stick first time heard…