The Studio
Best in Bangkok – best in Asia?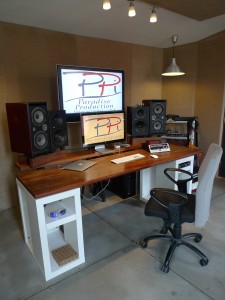 The studio in Paradise Production is custom-made from scratch to meet the highest international standards.
The Control Room is designed with top-of-the-line equipment and has an interior furnishing to create a relaxed atmosphere – with plenty of room for everyone involved in the recording and production.
The Vocal Booth is engineered to be dead quiet – and has enough space for the talents to feel comfortable and able to act freely. It has been approved by Disney, Netflix, as well as multiple TTS specialists.
The Equipment is state-of-the-art, guarantees clean sound from recording to mix. We use high quality microphones, preamps as well as top class converters.