Music
Make your favorite tune come true
At Paradise Productions, we have composed and produced a variety of music over the years. Our specialty is cover version that sounds too good to be true. You bring us a soundtrack, that you love to have – but is too expensive to buy originally – and we will recreate something similar without violating copyrights.
Singer song writers.
One of our specialities is to produce and co-write with singer song writers.
Are you a singer song writer, but get lost in all the technical stuff, or maybe you just don't have the network, to take it further?
We provide full tracks, either programmed or with real musicians.
That all depends on your budget.
We do everything, from the first demo recording,
to the finished master, ready to release, or present to a label.
And we use professional local and international musicians.
Please contact us for a demo, or a quote.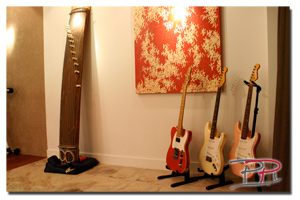 Of course we also do original compositions, tailor-made to your specific brief as well as helps established and new bands produce new hit recordings.
"Nicolai Kehlet is truly one of the most talented people i've ever had beside me in the studio. When it comes to composing and producing great music for my clients, or just giving me the best sound in my radio commercials, Nicolai will always be my first choice" – Palle Bo, www.radioguru.dk/uk
Latest piece from april 2017. Music by Nicolai Kehlet, Video by Kirby production.

Click to listen to the showreel from the past year: